Kick-Ass Brass!
- "its sound is simply stellar
– this virtual instrument fully justifies its name"
AMG are delighted to offer a virtual instrument version of our outstanding brass library! Now available in Audio Unit, VST, RTAS and Standalone versions for Mac and PC.

This library is an extended and improved version of our 5 star award-winning library with the addition of Baritone Sax & Muted Trumpet along with an improved Trombone. Kick-Ass Brass! is 8 part multitimbral and designed for multitimbral arranging and live performance applications.
Kick-Ass Brass! Minimum System Requirements
Windows - XP, 1 ghz processor, 1 gb RAM or better.
Mac OSX - 10.3.9, 1 ghz G4/G5 or 1 ghz Intel processor, 1 gb RAM or better.
VST2.x compatible host program (VST2.4 required for OSX with Intel processor) OR Audio Unit compatible host OR Pro Tools 7.x UNLESS you elect to simply use the included Standalone version instead of a plug-in.
For full specifications please download user manual from the resources page or 'in detail' section.
Kick-Ass Brass! - Quickstart Guide
Kick-Ass Brass! Sound On Sound (UK/US) Review
"...it is possible to create some
excellent results
...These new instruments sound just as good as the original material, with the muted trumpet being particularly atmospheric...AMG have done an equally good job with the graphical front-end, and have
combined good looks with ease of use
...the plug-in
worked flawlessly
...The built-in effects
sound good
...Kick-Ass Brass is still one of the
most convincing ways to create modern brass sections
...Overall, this library is
aptly named
- the samples themselves
sound great and the front end is very slick
." - Sound On Sound
Kick-Ass Brass! MacUser Review
MacUser (UK) post the first review of Kick-Ass Brass! Despite having some bizarre technical issue that results in them only being able to achieve about 10% of typical performance it still gets a 4 star review! Full text at the foot of this page, here are a few choice quotes:

"...a
superb-sounding, self-contained brass section
to any VST or AU-compatible sequencer...The appropriately brass-themed interface is
stylish and clean
...Carefully combining the variations can result in a
strikingly realistic
performance and with a touch of reverb the samples really come alive...if you're in the market for
top-notch modern brass sounds
, they don't come much sweeter than this. The
user-friendliness
of Kick-Ass Brass! scores highly for us and
its sound is simply stellar
– this virtual instrument
fully justifies its name
." 4 Mice.

Kick-Ass Brass! Two more reviews from Japan
"I loaded a MIDI song I made before with other brass sounds, replaced it with KAB! and it made me smile. It sounded
much sharper and real
. Most of the brass presets in synthesizers tend to sound too soft or too flat, so it is hard to get sharp and crisp sounds like KAB!. From rock to big band jazz,
I recommend this to all genres of music creators
. " - Yutaka Fujioka, Sound Designer

"Very dense and big-boned sounds.
Every sound has a presence
. Even the upper register notes of trumpet don't sound weak. And it is bright enough to give a flashy accent as expected for the brass sounds in the mix. It may not be made for classical music, but this is what I call the pop brass sounds." - Hiroshi Takayama, Keyboard Magazine
Kick-Ass Brass! Sound On Sound Review of the original Akai Version
"Layered together and with suitable harmonies, the resulting brass sections come over as
solid and assertive
, not limp and flabby as so many brass samples are when used in this context.... If you need a
tight, professional brass section
(but can't afford the brass!) and don't want to be restricted to using sampled phrases,
Kick Ass Brass is an excellent way to achieve great-sounding results
." 5 stars - Sound On Sound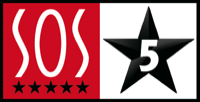 Kick-Ass Brass! Full text of the MacUser Review
"AMG's Kick-Ass Brass! started life as a widely acclaimed sample CD of modern brass sounds. Now the same library has been expanded and housed in a virtual instrument, bringing a superb-sounding, self-contained brass section to any VST or AU-compatible sequencer. At the time of writing, only the VST version was finished – and it's that which we review here – but the developer has confirmed that an Audio Unit version is imminent.

Kick-Ass Brass! features a total of six instruments: the original CD's trumpet, trombone, alto and tenor saxophone, newly augmented by baritone sax and muted trumpet. The appropriately brass-themed interface is stylish and clean, with the main data window surrounded by a handful of additional controls: balance, volume, pan, vibrato rate, glide and EQ. These, and many other aspects of the plug-in, are MIDI controllable.

Kick-Ass Brass! is both multi-timbral and multi-output, whereby four stereo pairs will appear as mixer channels in the host software. Up to eight instruments or variations can be loaded in one instance, so either a complete four-piece horn section or the various playing styles of, say, an Alto Sax can be contained in one plug-in. Each slot can also be assigned a separate MIDI channel to better control playback.

At the head of the plug-in, you select either Instrument or Multi patches to load one of the supplied presets. Alternatively, clicking the small L (for Load) button in each slot opens a cascading list of available instruments. Changing programs generally takes a second or two – depending on complexity – but it's nothing interminable.

The instruments load pre-mapped to your MIDI keyboard and cover the instrument's natural range, so you can't fake a tuba, for instance, by dropping a trombone down a couple of octaves. However, instruments can be transposed +/-12 semitones to imbue them with a slightly different timbre.

To the right of each instrument's name is a variation slot, where the different playing styles can be selected. Kick-Ass Brass! contains such variations as Ends, Expression, Hard, Mixed Stabs, Rips + Falls, Slides, Soft, Swells, Trills and Vibrato, lending each instrument wonderful flexibility. Carefully combining the variations can result in a strikingly realistic performance and with a touch of reverb the samples really come alive. You can also save instrument and section settings, so you can easily create unique setups.

On the subject of effects, Kick-Ass Brass! does come with a number of onboard stereo 64-bit FX modules, including reverb, delay, chorus, flanger, Leslie speaker and phaser. In general they're fine, although we did notice grainy artefacts when using the flanger and phaser presets. You're more likely to use third-party effects, anyway, especially as the Kick-Ass Brass! presets cannot be edited.

The drawbacks with Kick-Ass Brass! are few, but should be noted. Primarily, it's very demanding. Playing a four-piece brass section Multi patch on its own in Live 5, running on a dual 1Ghz G4 with 1.75Gb RAM, the CPU meter could touch 70 per cent. Adding some Kick-Ass Brass! reverb, the meter went beyond 90 per cent. There will inevitably be much audio bouncing and track freezing when using Kick-Ass Brass!, unless you've got a 2.7Ghz dual G5 stuffed to the gills with speedy RAM.

Also, it's a shame that there's no orchestral brass – no French horns, tubas or more esoteric trumpets – as their addition would make Kick-Ass Brass! The ultimate horn section. Still, we can't fault the content as is. We did raise a slight eyebrow at the price, though, anticipating something closer to today's plug-in pricing sweet spot of £149-£179. £200 just sounds that much more expensive.

However, if you're in the market for top-notch modern brass sounds, they don't come much sweeter than this. The user-friendliness of Kick-Ass Brass! scores highly for us and its sound is simply stellar – this virtual instrument fully justifies its name."


NB: Regarding the reviewers comments on performance, we subsequently found out that the plugin was being run unnecessarily at 96khz. Since the library samples are all at 44.1khz this puts extra strain on the CPU without delivering significantly better sound quality. At 44.1khz sample rate, the performance of the plugin is significantly better when playing the layered multis as the reviewer was, because they trigger multiple patches simultaneously.
Kick-Ass Brass! User Testimonials - the latest comments...
"This library is
simply incredible.
Great sounds, great work!!!!" - David B, Germany

"Thanks a lot.
Love the plug very much!
" - Jesse M, Germany

"Big thanks.
KAB is still the best!!!
" - Thomas F, Italy

"...
Many thanks for your perfect sounding product!!!! Absolutely the best!!!!
." - Peter VR, Belgium
Kick-Ass Brass! User Testimonials - what our users have been saying...
"
BEST BRASS SOFTWARE I EVER HEARD!
Keep up the good work -
you should be ruling the world shortly with stuff like this!
I'll tell my friends about this. Thanks for your help." - Hawk W, USA

"PS: My quick testimonial: As a trombonist all my life,
this program is a god send!
No more booting up three modules and a sampler to mix together sounds just to get a horn line! I just open KAB and sequence my line, then add a track of live Bone with it, just to move some air, and have
pissed off every horn player in town
:-)" - Tom F, USA

"Just an additional Info to the KAB Sounds. I've also purchased the AKAI disc a while ago and I've programmed my own setup for the wind midi controller with the Yamaha A-4000 and later on with the Akai Z-4 Hardware Samplers. Now I'm using this bank with Logic EXS inside Apple's MainStage. I'm also performing live with this setup e.g. as supporting act for Lenny Kravitz in Vienna or at the 2009 Montreux Jazz Festival.
This is defiantly the best Brass library I've seen in years!
Thanks for your great support and product." - Oliver W, Austria.

"By the way, we were doing a sound check at a casino playing "Vehicle" by Ides of March and a guy came up to me and said,
"I would have sworn there were a bunch of horn players standing up here. How do you do that?!"
:)" - Todd Q, USA

"Thanks Matt. It worked fine. I tried it out and
the brass sounds are great
. (and I've tried alot of other horn software - Chris HXXn Horns 1 and 2, The Trumpet, Mr. SaxT) I can't wait to start using them in my music." - John E, USA

"Well I got KAB all working and it
totally rocks!
" - Doug H, USA

"OMG - Matt! You have made me one very happy man.
KAB is just too cool for words
." - David M, USA

"You were right! Sweet! Thanks Matt.
KAB rocks. I can't wait to lay down some tracks with it
." - Ron S, USA

" I´m happy, damn it sounds good!!! Sending you my first test, just for fun." - Mattias F, Germany.

"...everything went fine with the installation. It is
a truly great product!
" - Jose G, USA

"...it's great!
KAB is still the best sounding brass VI available
." - Charlie H, Australia.

"...it really
sounds great
" - Jon Q, USA

"...
your stuff rocks
" - John M, USA

" I just want to say
I'm loving this vst
." - Tom R, Belgium

" Kick Ass Brass is
the best brass module
. I love it! Thank you for your great job!!" - Hiroaki, Japan

"I must say i am
VERY impressed with the sound and ease of use
... it's truly indicative of its namesake!" - Ewan J, Australia

"Done a few bits and pieces already with KAB.
Wow. Great sounds, and amazing flexibilty
. Gonna enjoy playing with it." - Roger P, UK

"I am
very impressed with KAB
so far having done some experimenting with replacing the existing brass samples on an on-going project today after installation. Suffice to say I am more than happy with my purchase." - Ian, UK

"Matt thank you so much for your patience. I realized I was looking in the wrong place for the options page. It was so simple and easy, I was embarrassed. I am about to place the license in the library and use your wonderful horn sounds in a new composition for a group I'm producing in Germany.I can't wait. If it pleases You I'll keep you informed about the progress of the project and how I used your wonderful product. I must say based on the demos I heard on your website I've never heard more realistic horns in this price range. It's almost uncanny.
I was about to spend about 7 times as much money on a competitors software
but the demos were so close in quality you made me a believer. Thanks once again." Bill B, USA

"This is
the best horn instrument I've ever played
. I've been looking for something like this for years. Well done." - Nick, UK

"I am
a convert to the church of KAB and am about to spread the gospel
." - Bill B, USA

"The sounds that I have auditioned are
the best I have heard
." - Amirel L, USA

"oh man im sorry for all this questions and everything ,my project its on and the software was just great ...
wow ..!!!!!!!love it thanks a lotttttttt!!!!bro
" - Jamie R, USA

"Well, I've probably gushed enough by now - I think you know how I feel about it (Kick-Ass Brass!). I'm spreading the word out here in the Hollywood film community as fast as I can.
Every single person who's heard this piece, down to the last one, has first ask who the hot session players were I got for the recording
. Then after they pick their jaw up off the floor, then scratch their head as to why they've never heard of AMG before, they quickly get the web address from me, fearing I'll change my mind about giving away my secret weapon. Why have they never heard of AMG? I can't quite figure that one out. I think maybe X, Inc. and Y, Inc. are distracting everyone out here with all the great filmscore-centric stuff they keep releasing.
But neither of them has even come close to KAB for pop brass...
" - Chris M, Hollywood, CA, USA

"I
used your KAB to great success
on a high profile project for Pfizer/Listerine Agent Cool Blue." - Andrew I, New York, USA

"WOW!
What an aptly named product. :)
Keep up the great work!!" - Todd Q, USA
Kick-Ass Brass! User Testimonials - more of them...
"I've just been trying KAB out and
I have to say it's fantastic. Your attention to detail is superb!
!" - Neil J, Gt. Yarmouth, UK

"I've had a chance to work with KAB some and I can say now that I'm
really glad I bought it. It's a great product with some REALLY great brass samples!
" - Peter D-B, Sweden

"I really
love this product
." - Whyman B, England

"I am very satisfied with the product, the
sound quality is excellent
and as lively as a vsti can be." - Frits S, Belgium

"I'm
very happy
with your product, thank you!" - Leonhard W, Germany

"
KAB is the Coool!!!
" - Kentaro, Japan

"The sounds are
amazing
." - Ossie K, UK

"I'm going to have
a lot of fun
with this plug-in..." - Camillo, USA

"This program sounds
amazing
..." - Rab P, UK

"I'm writin' and rockin'.
Lovin' my KAB
so far!!" - Gary I, USA

"I am
really, really pleased to finally have found what I have looked for, for a loooooong time
: A really good sounding horn section in the form of a VST-instrument. Thank you!" - Fredrik P, Sweden

"I have it installed and it is GREAT!.
Everything I'd hoped it would be and then some
. " - Kevin R, USA

"Thank you
sounding bloody marvellous
already!! " - Mark H, UK

"The library
really does kick ass
. Thanks for your help." - Patrick R, USA

"I just want you to know - I think KAB is a wonderful piece of software...The
best digitalized horns I'ver heard
." - Tor-Arne M, Sweden

"This will be
one of my favourite VSTi´s, and I use a lot of them
. " - Michael F, Germany

"Your Kick Ass Brass VI
sounds amazing
.." - Laurent, Belgium

"Everything is just fine. I just wanted to say that your product is
second to none
, and is only overshadowed by the excellent service that you provide." - Willy A, Norway

"I just haven't had the time to tell you
how fantastic the Kick Ass Brass VST sounds
." - Claudio F, Germany

"I have come away from this experience convinced that you folks a) have
a better sounding product than these other guys
, and b) are not shy when it comes to supporting it, which puts you light years ahead of SXXXXXXXX, NX and others I have had to deal with." - Alex McL, USA

"I like KAB very much. Both the sounds and the interface
support my musical style and workflow very well
. The point is that I do not have to adjust myself - KAB knows how I want to work..." - Ari, Norway

"This VSTi really rocks, not only are the sounds excellent, but the GUI and functions of the VSTi are very well done. And it looks very cool also and does not use much cpu in my DAW. I wish you all the best with selling this product, and
I will recommend it whenever I can
. :-)" - Bob Y, Sweden

"I just completed my first sequence with the plug-in, and I have to say it sounds great.
You're filling a serious void in the market
. I have XXX's "FXXXX CXXX HXXX," and it's incredibly weak...
KAB is ballsy! I love that
..." - Merv W, USA

"I just received my copy of K.A.B. and
I want to tell you how incredible this disc is
. I wasn't sure who to write to...but
we couldn't have hired a better brass section
for as inexpensive as this disc was...! Absolutely incredible!" - Mark D, USA

"I'm really looking forward to that instrument as I'm very happy with the existing library.
You've done a great job
on this library and this is of course what I expect from the new product." - Thomas H, Germany

"Using samples on number of projects,
excellent!
" - Paul M, Australia

"I've been using Kick Ass Brass for about 6 months now and have
grown to absolutely love it
." - Jeff S, USA

"
Sounds fantastic
. Just wanted to say thanks for your excellent support." - Frank F, London

"I recently purchased the kick ass brass collection.
It's great!!!!
" - Michael, DeL, Holland

"...the Kick Ass Brass samples are
the best that I have heard
" - David C, USA
A brass arranger's dream machine - 8 Parts per instance
Kick-Ass Brass! is made to be used. It's not one of those virtual instruments that sound flashy but don't perform. The great thing about Kick-Ass Brass! is that whilst it will sound great in anyone's hands, a skilled brass arranger will really make it sing. It has all the elements an arranger needs to create a modern horn section. Each instance of KAB features 8 parts which is more than enough in most cases, but if you need more it's no problem. Add another instance and carry on. It has a very light CPU load and although obviously the sounds can take up RAM the files are actually much smaller than you'l find in many other unnecessarily bloated libraries. We also include especially small versions of many of the main, larger patches which are fine for live applications if size and load times are critical.
This is a virtual instrument that performs - not a prima donna you have to be a slave to.
AMAZING sounds - the only convincing substitute for the real thing available today!
The most important thing about Kick-Ass Brass! is it's sound. Users and reviewers all agree it's 'simply stellar' and the
closest thing to a real horn section available today
. It's not a massive classical or orchestral library, if this is what you're after there are better alternatives out there maybe.
KAB is a modern, tight, exciting horn section
that will transform any modern pop, rock, R&B, soul or jazz track - in fact any track that needs standout, in-your-face, show-stopping horn sounds. Examine every note and you'll find the odd imperfection, maybe that's what's so special about Kick-Ass Brass! - it's based on real performances from a real horn section, not an idealized, tweaked-to-death version that they would never play. Who knows?
The results speak for themselves
though...
Loaded with smart technology but very low maintenance
Kick-Ass Brass!' 64-bit engine ticks away under the hood, taking care of business and delivering time and again without any fuss.
Everything works so you can just concentrate on playing
. It demands very little but delivers a lot thanks to the smart technologies employed throughout the design process.
Available in a wide range of formats...
Kick-Ass Brass! is available in all the major plug-in formats too. Dedicated
Audio Unit
version for Mac users in addition to
RTAS
and
VST
versions so you can easily host it in all the industry standard applications such as Logic, Pro Tools, Cubase, and countless others besides. If you don't wish to use a plug-in host we also supply
Standalone
versions for both
Mac & PC
too.
Of course we include a comprehensive PDF manual with Kick-Ass Brass! that you can download here if you like. But it's almost redundant really. We know people don't like to read manuals, and with KAB you really don't need to at all. Certainly not if you use the install video guide as that's probably the only thing you might not be able to figure out for yourself. Kick-Ass Brass! talks your language not one all it's own. It's so simple to use no one ever asks how to do anything, it's so obvious there's no room for confusion. We believe
most musicians don't want infinite possibilities
- they usually want instruments they can play, that give them the result they're after as quickly and easily as possible. If you want to take the scenic route at arrive somewhere you didn't plan to visit then there are other plug-ins out there that will do this. Kick-Ass Brass! will get you
straight to a killer horn sound pronto!
But ultimately it's all about the sound
However we get there though, all that really ultimately matters is the sound. That's also very subjective. When we started on this project we thought it would be a 'rod for our backs', that everyone would want something different, their idea of the perfect horn sound would be different to ours. That's been the most surprising thing about Kick-Ass Brass! It seems like there's
a brass sound that almost everyone loves
and that's the sound it delivers. Of course it's not 'all things to all men' but the balls out brass sound of Kick-Ass Brass! is
hard to resist
.
Kick-Ass Brass! really
comes to life in the hands of it's users!
Take a moment to check out a host of demos on the
resources page
and hear Kick-Ass Brass! in action.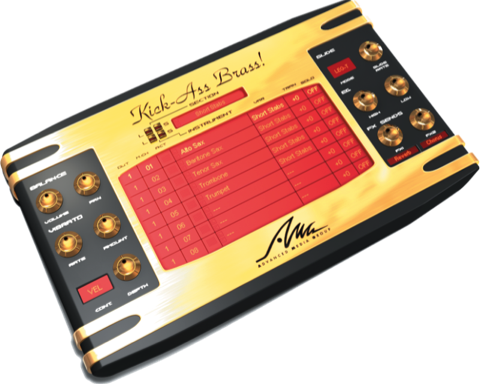 Kick-Ass Brass!
GUI Images
Click on each image to see a large version of each and be able to see the layout and parameters available on every page of Kick-Ass Brass!